What is BusinessOne?
BusinessOne delivers loan decisions within 48 hours* on term loans and lines of credit from $10,000 to $100,000.
Rates starting at Prime + 2.00%
We help your business by providing:
Term Loans for:
Permanent Working Capital
Inventory
Equipment & Vehicle Purchases
Debt Consolidation
Business Expansion
Lines of Credit for:
Short Term Working Capital
Payroll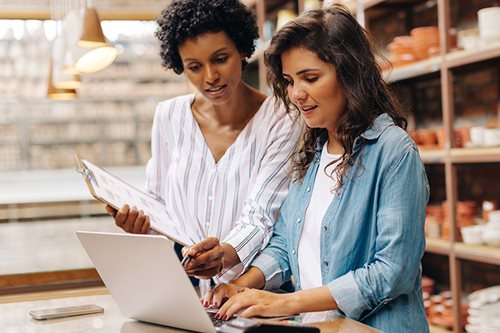 Why choose a BusinessOne loan
instead of a traditional loan:
If your business needs capital immediately, this loan process can get you approved and funded within 48 hours*. Many customers that have used BusinessOne obtained the funds the same day of application
Highlights
Convenience, guaranteed. Easily apply online
Less than a 5 minute application process
Instant approvals available
Eligibility for BusinessOne loans:
Must be in business at least 2 years
Some industries may be restricted from BusinessOne loans. Please contact your local Branch Manager for more information.
An active HarborOne Bank business checking account is required prior to loan closing and funding.
Checklist of items needed to complete an application online:
Valid Driver's License
Business Established Date
Business Financial Questions

Gross Sales from your most recently filed tax return
Taxable Income/Loss from your most recently filed tax return (for requests > $50k)
Total Interest Expense from your most recently filed tax return (for requests > $50k)
Total Monthly Debt Payments, not being refinanced with the requested loan (for requests > $50k)

Personal Financial Questions

Liquid Assets, not including Retirement Accounts
Real Estate Assets
Other Assets
Personal Liabilities
You're building an amazing business. We've got the tools, tips, and advice to help you thrive.
Our Small Business Hub is full of resources created to support you wherever you are on your business journey,
* Guarantee pending all required documentation requested by the bank is provided. An active HarborOne Bank business checking account is required prior to loan closing and funding. Terms subject to credit approval upon completion of an application. Loan sizes, interest rates, and loan terms vary based on the applicant's credit profile